A Year of Growth and Exciting Changes
A Letter from our Executive Director
We want to thank you for another incredible year of growth and exciting changes at Project Pilgrimage. 2018 marked our 5th year of bringing together diverse people to learn about our shared history both within our communities and ourselves. We are deeply proud to have led our 9th and 10th Civil Rights Pilgrimages to the American South, where we met with long-time friends like Mr. Willie Thornton in Montgomery and Mrs. Joanne Bland in Selma. We've begun meaningful partnerships with new friends, like Michael Quess Moore of Take 'Em Down Nola and Brandan "B'Mike" Odums of Studio BEin New Orleans, who are walking in the very footsteps of civil rights leaders like Carolyn McKinstry, Bob Zellner and Bernard Lafayette.
This year was also memorable because Project Pilgrimage is officially a 501(C)(3) non-profit organization. We have learned so much about getting an organization off the ground. This challenging and rewarding time has been enriched by having our own office space in which to organize. Our growing staff has a place to call home and as a result, our work is thriving. We were able to offer professional development for our team through various workshops, experiences and conferences, including Courageous Conversations in Philadelphia and the opening of EJI's Peace and Justice Memorial in Montgomery.
Looking ahead, I am so incredibly excited about 2019. We will be launching our newest program called Breaking Bread. Food naturally brings people together and we can think of no better setting to take on local issues of race and identity than over a shared meal. Our ongoing goal is to be able to continue offering Civil Rights Pilgrimage experiences to diverse sets of participants. Many of our participants have confided in me that this experience would only be possible for them with the financial support we are able to offer. It is through your continued shared community values and support of our work that this program is sustainable. Thank you!
Project Pilgrimage is stronger than ever due to our continually expanding community. "Ubuntu" is a philosophy from South Africa that translates to, "I am because you are." At a time when our politics divides us, Ubuntu serves as an important reminder that we belong to a greater whole. As we close this year out we remember that it is community that holds us together, and we offer the philosophy of Ubuntu as a meditation – 'We are because you are.' I look forward to seeing you in community.
Warmest,
Felicia Ishino
Executive Director
Project Pilgrimage Board of Directors
With the newly minted 501(c)(3) status we are thrilled to announce a remarkable Board of Directors. Felicia Ishino, our Executive Director, looked for leadership qualities and deep ties in the community when she set out to build our inaugural board. "This dynamic, experienced and compassionate group of leaders see this work, what we do at Project Pilgrimage, as vital and necessary, so much so that they are willing to give us their time, energy and expertise."
Our Board chair, Carolyn Maull McKinstry, is a native of Birmingham, Alabama. Carolyn is a graduate of Fisk University, and holds a Doctor of Ministry degree from New York Theological Seminary. She is a civil rights leader, author, and community builder who works daily to educate and share about the history of the past in order to build towards reconciliation and healing.

May Che, our Board Vice-President and Secretary, is a Senior Trial Attorney for the United States Equal Employment Opportunity Commission (EEOC) in Seattle. Many of the cases that May has litigated during her approximate nine years at the EEOC involve sexual harassment and sexual assault of immigrant workers, and discrimination against individuals with disabilities. Her work has always centered on her passion for community and advocacy for the disenfranchised.

Terri Olson Miller, our Board Treasurer, has lived in the Seattle area since 1968. Terri has a BA from the University of Washington and an MBA in Finance from the University of Puget Sound. She worked for 18 years in banking for Rainier Bank, Security Pacific Bank and SeaFirst. Her work in and dedication to creating community has been tireless. She has served on many local boards, including the Boys and Girls Club, Seattle Repertory Theater and now as a foundational support in steering Project Pilgrimage through our launch as a non-profit.

We couldn't be luckier or more honored to work these three incredible women.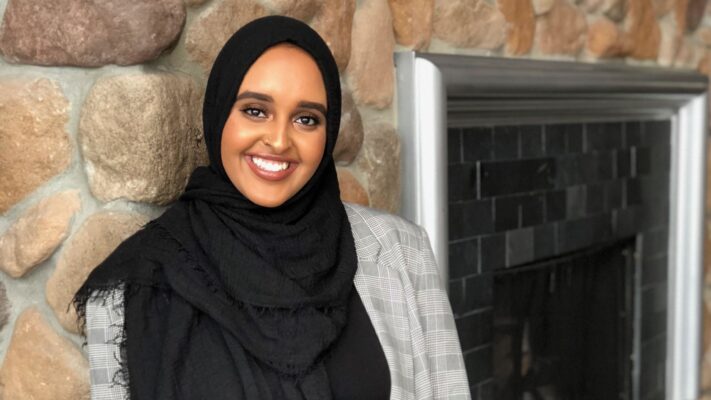 Community Spotlight: Faiza Hassan
We are eager to highlight the experiences of Pilgrimage alum and highlight their dynamic work in the Seattle community. For this issue, we spoke with Faiza Hassan, who has been a part of two Civil Rights Pilgrimages and engaged with Project Pilgrimage for many years.

"I understand why they call it a pilgrimage, because you come back and you are truly a changed person and your outlook on life, it's completely shifted." Faiza reflects back on her two civil rights trips to the south with Project Pilgrimage.

Interested in the intersection between race and politics, for Faiza, the 11-day Pilgrimage to the south was a way for her to learn and connect with the history of the black freedom struggle in America. As an African Immigrant, Faiza said she struggled to understand the Black American experience. "I identify as an immigrant Black Muslim woman living in America….but when people see me on the street they can't tell I'm an immigrant, they just think I'm a black woman." Being identified with a history she didn't understand was motivating for Faiza to absorb as much as she could from her time on the Pilgrimage. She said that trying to take in all the history and information in such a short timeframe proved overwhelming at times, but ultimately the experience allowed her to explore her self-identity and gave her a whole new outlook on who she was. Faiza returned for a second Pilgrimage, this time as part of the leadership team. She took on a mentorship role to help the younger participants navigate the demanding experience and to be a peer they could process and talk through their emotions with.

Today, Faiza is still continuing her work as a mentor, currently for Coyote Central, a Seattle arts nonprofit offering accessible, creative workshops to middle school aged youth. Faiza serves as the Youth Advisory Board's Co-Facilitator, overseeing the board's community impact and outreach projects. She guides the Advisory Board members, made up of Seattle area youth, as they work on projects to engage and give back to the Seattle community. Mainly through the form of public art, the Advisory Board creates street artwork and art installations for public spaces in Seattle. Faiza is overseeing the board's design collaboration with the Tiny House Project for people experiencing homelessness in Seattle. Faiza said she's always loved working with youth and much like her second Pilgrimage experience, Coyote Central allows her to give back and mentor students and help them become leaders in their own right.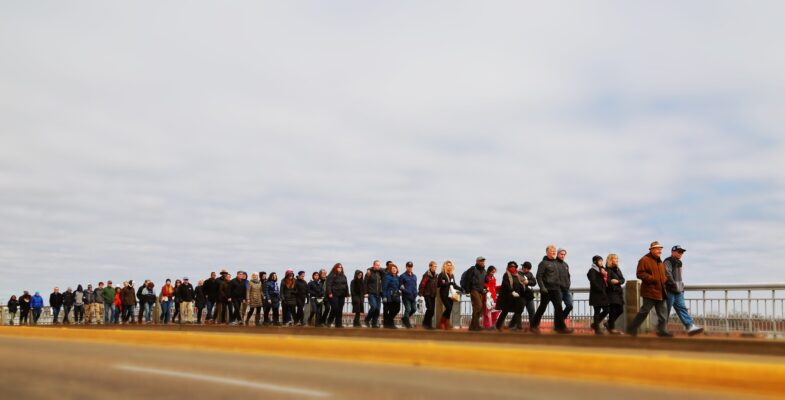 Pilgrimage Reflection: Living in Community
I have been on six Pilgrimage journeys. Immensely challenging and trying, inspiring and motivating, I have continued to commit to each Pilgrimage because unlike and incomparable to any other experience in my life, it demands that I face the atrocities of our country's past and present, and my role in this. Honesty is required as I share space with complete strangers from entirely different communities, perspectives and life stories. We constitute a trepidatious and hopeful collective, diving into conversations about race that we reserve for the familiar corners of very close friends and family — if, especially for white folks like me, it is even spoken about. My first Pilgrimage was the first time I felt the tension and emotions that infuse these conversations centered on race. On these Pilgrimages, I feel my personal walls start to fall as trust is built in its place. Now we become an imperfect but perfect community. We travel through sacred spaces of the American South to meet with beautiful people who have made it their life's work to teach the true history of this country. Through it all, building community is the life blood of the experience.

To the last, every individual I spoke with about the impact of the Pilgrimage, shared that community was at the heart of this. Gabriel Narvaez said that forming relationships was the crux of the trip for him because it enables us "to move past these artificial barriers that society places on us." When we do that, he said, "we get to see somebody on a humanistic level, and we get to see how much we actually have in common, and work together and support each other." Rosa Beyene said that she stepped outside of her comfort zone and spoke about race and social justice with individuals she would not usually talk with about these issues. Those exchanges, she said, "made me realize that I can start actually having conversations with people who don't necessarily look like me or have the same experience, and it can be a really positive dialogue. I don't have to be afraid of that conversation anymore."
Building community requires trust and vulnerability. It is not seamless or easy. Her hope, Carolyn McKinstry said, is that when we return from seeing sacred spaces and learning historical truths, together, members of the pilgrimage "are that much closer to understanding what it means to build community. We have that many more people closer to helping us build a broader community. Because we need all of us." As Carolyn anticipates, many of us come back and see our environment, our neighbors, anew. And this is exactly what happened to Mary Prchal, who shared that the experience changed how she interacts with everyone encountered back home. "When I walk out in public, I look at everyone differently. I look at how I treat people, how I look at people, how I talk to people, and it changes your life in that way."

In sacred places with powerful people I am changed by what I hear. It is sometimes tempting to withdraw and separate from the people beside me on the bus, but I made a commitment to the community, our values and our mission tether us together. Somehow, in a show of solidarity, the imperfect community begins to lean in and on each other. The truly extraordinary takes place, we begin to live in community.
– Devon Geary
---
QUESTIONS?
Feel free to reach out to us with any questions or comments.
Join our mailing list to receive updates about Sankofa Impact.