A letter from our Executive Director
As a first-time Executive Director, the experience is similar to swimming in deep waters and it's scary. With these waters come sensations of fish brushing against my skin and seaweed clinging to my ankles and wrists. Water rushes into my nose and ears and covers the top of my head. The strength of the current pulls me under. I have to swim even harder.

Fear is part of the job, but I also know that this is head and heart work. I know that the feeling of jumping off the dock and into the crisp cold water electrifies me with hope and washes away my fear.

I'm challenged every day at Project Pilgrimage and buoyed by the support from colleagues and community members. I find inspiration in Civil Rights Pilgrimage spaces, like Studio BE in New Orleans, which is definitely a place of joy for me. The people who welcome us with open arms everywhere we go in Alabama, give me a feeling of home and have become extensions of my family, meaning every trip is like a reunion.

I realize Project Pilgrimage's goal of bringing people together from different racial backgrounds, socio-economic statuses, and ages in order to build community is a lofty idea. It almost even sounds like we're trying to end racism. That's a ridiculous notion and absolutely right.

A community member from Seattle recently said at a gathering that without fear, we wouldn't know what courage is. I believe in the power of facing fears and embracing the other, especially when it's uncomfortable. I believe in the change I've seen in each person who comes on a Pilgrimage. I believe in you. I believe in me.
-Felicia Ishino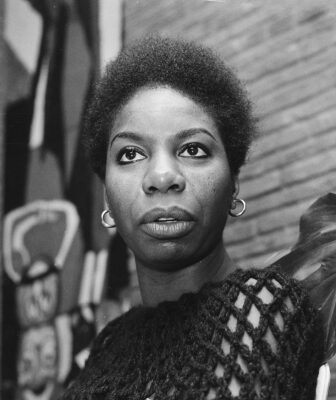 "I'll tell you what freedom is to me. No fear."

Nina Simone
Spring 2019 Civil Rights Pilgrimage: A meditation on voting rights in our country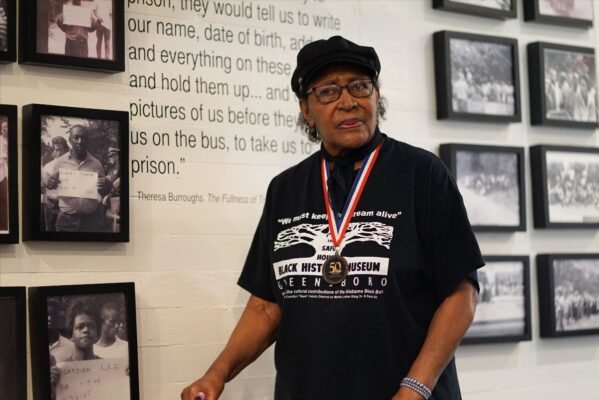 This spring, our Civil Rights Pilgrimage was a 5-day journey centered in Montgomery, Alabama, focusing on the racialized history of America, on disenfranchisement and voter suppression, and the ongoing fight for voting rights imperative to our country's democracy. This experience so deepened my comprehension of the extreme risks that were and are taken in the movement for full equality and real justice, and the bravery of each individual who joins this fight.
Our racial history is the story of struggle and oppression, of resilience and resolve. It is against the unthinkable that Blacks in this country battled for their rights, for their equality and humanity to be ratified. Humanity that remains fully unrecognized. Today, the methods of voter suppression are different but the intended outcomes are the same. Mass incarceration disenfranchises millions. Voter ID laws, the closing of polling stations, gerrymandering — these are only a few of our country's tactics.
Again and again along our journey, I was shaken to my core as I came to understand the choices African Americans made in the fight for their right to vote. At the Lowndes County Interpretive Center in Hayneville, Alabama, I learned that the center stands on land that was once an encampment for Black families evicted from their homes and blacklisted by merchants because they had registered or tried to register to vote in the county. Homelessness, destitution, and even death — it is difficult for me to fathom the courage needed and the high costs paid for a right that is inherent to our democracy.
On our last days of Pilgrimage, we met with activist Theresa Burroughs at the Black Safe House in Greensboro, MS. Ms. Burroughs, at 89-years-old, shared her stories of protest, activism and her attempts to register to vote. After standing outside the county courthouse waiting for hours for a chance to register, angry shouts ensured that she would not lean against the wall for some respite from the weight on her feet. She showed up to the county courthouse nine more times before her right to vote was recognized. Our Pilgrimage group was the last group to share these stories — Ms. Burroughs passed away last month.
It is these stories – Ms. Burrough's, Bob Zellner's, Bernard and Kate Lafayette's, Carolyn McKinstry's stories and acts of resolution and resiliency that remind me of what it takes to truly be a part of this movement. To truly join this fight.
-Devon Geary
---
Join us. Sign up for our Fall 2019 Pilgrimage.
Changing the Narrative through the Potency of Art
Application Deadline: July 12th, 2019

Calling all artists: poets, writers, photographers, musicians, dancers, painters and filmmakers. Fall 2019, we are offering a Civil Rights Pilgrimage with you in mind. We begin with you, the story makers, storytellers, and art makers – the narrative shifters and shapers in our culture. Join us for a deeply rich experience that dives head first into the racial history of our nation and builds radical community along the way.
---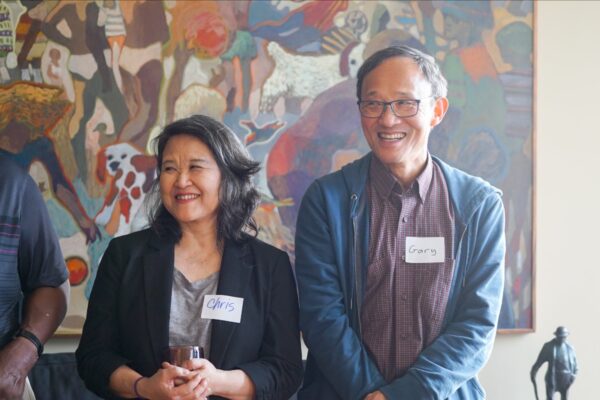 Community spotlight: Chris Kimura
Chris Kimura and her husband Gary are true pillars of the Project Pilgrimage community. Since going on their first Civil Rights Pilgrimage back in 2017 they've remained supporters of the movement and active participants in our events and programming. In 2019 you can find them opening their home to host all four evenings in our Breaking Bread dinner series.
This past spring Chris returned from her second Civil Rights Pilgrimage trip. Having the unique opportunity to participate in a Pilgrimage for the second time allowed Chris to visit new sites, like the EJI's Legacy Museum and Memorial, and to reconnect with the familiar faces of our Pilgrimage — the Civil Rights foot-soldiers we meet along the way. But for Chris it was her new Pilgrimage cohort that reminded her why she continues to participate in this work. "I continue to support Project Pilgrimage because I believe in it. Forming communities, learning others' stories and experiencing this together allows us to build true relationships with one another…finding this common understanding is the only way we can move forward and build bridges, not walls."
Chris returned home with a renewed sense of urgency. She says this Pilgrimage "left her with a feeling of knowing that we couldn't just sit on this experience and do nothing, we need to carry it forward." Chris plans to carry it forward by helping her communities right here at home grow their racial justice efforts and teach the hard truth of our shared history that she learned on the Pilgrimage. She hopes to see her own communities become more inclusive by fostering conversations about race where people who don't look like one another can admit and discuss their own biases and eventually change them. Chris feels obligated to do this work and believes it's the least she can do after what she's seen and experienced on two Pilgrimages, after hearing the stories of sacrifice and courage from the Civil Rights foot-soldiers.
– Jasmine Rose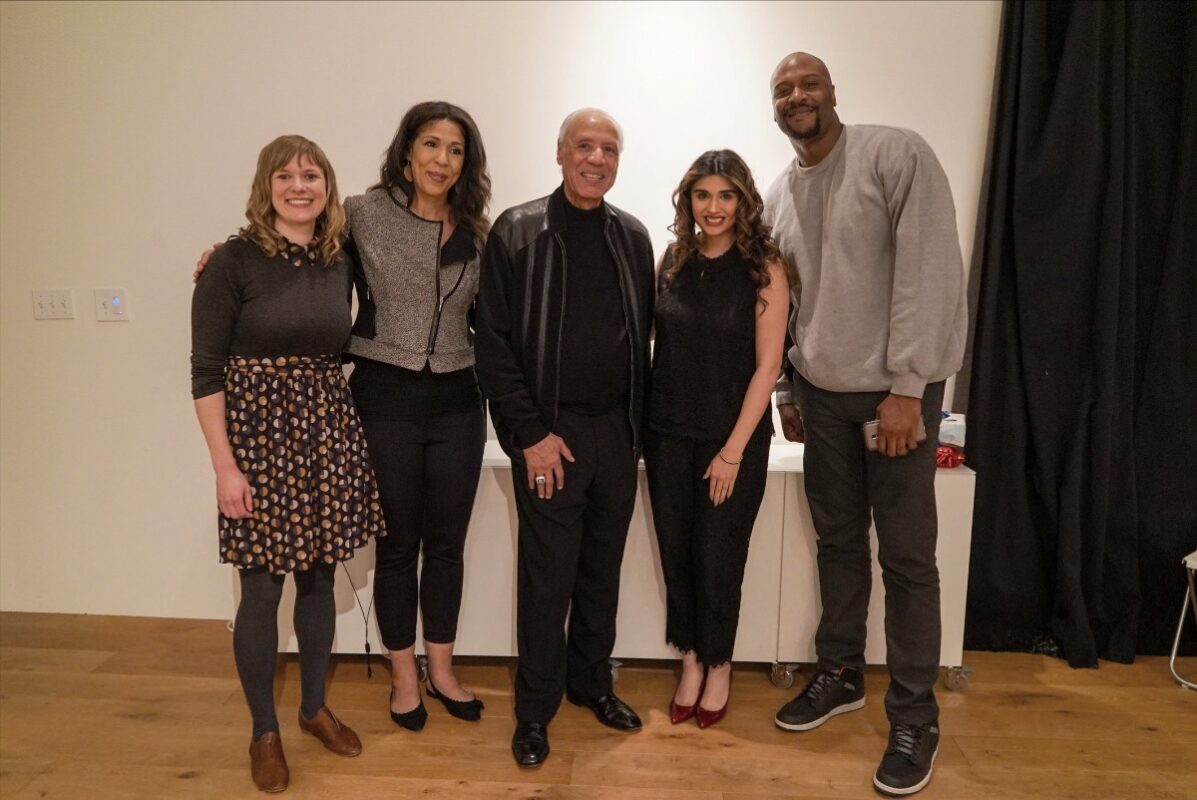 A transformational evening spotlighting Seattle Sports: Play, Identity, and the Pursuit of Credibility in the Emerald City
About 50 of us gathered in a packed room at Moscozzi Studio's to hear from the writers who contributed to the anthology, Seattle Sports: Play, Identity, and the Pursuit of Credibility in the Emerald City, edited by Dr. Terry Anne Scott, Hood College professor and Project Pilgrimage's historian. There was a contagious buzz in the room.
Dr. Scott curated a vibrant evening of readings and discussion. Sports fields, courts and rinks are spaces where our community's values are reflected and tested and civil rights are fought for. Many of the contributors to this remarkable collection read and shared stories that explored the vast and varied civil rights history of sports in Seattle. From national championships to intra-communal play and the elimination of racial, ethnic, and gender barriers, the essays in Seattle Sports explore the city's highly visible as well as more clandestine sporting moments.
Jamie Barnhorst, a team member of the iconic Rat City Rollers, shared the history of the league and her story of finding this sport as a young woman in her essay, "Roller Derby: Making Strides and Pushing Boundaries." Dr. Rita Liberti shared stories of the struggle for recognition, equality and community in, "Play/Gay Ball!" The Emerald City Softball Association and the Making of Community." Shafina Khaki, spoke passionately about Richard Sherman and language in her essay "More Than Just an Athlete: Race, Identity, and the Seattle Seahawks." Anthony Washington shared from his essay, "'Is Seattle in Alaska?': My Basketball Life in Seattle and the stars with whom I Played," a personal reveal and a fresh much needed voice in the conversation of race and sports.
Beloved Coach Lenny Wilkens, NBA All-Star basketball player and head coach of the Seattle SuperSonics, and the focus of Dr. Terry Scott's chapter, spoke emphatically about the need to continue to push forward for civil rights, using sports as a platform. Sharing stories about his civil rights activity, Coach Wilkens spoke of the strategies and tactics he and his team used to make strides. We need to continue to talk with one another, listen to one another and share, he said. It's the way we make change.
We look for those moments of transformation, moments when sharing stories with each other and listening changes us. This was a night when change happened.
---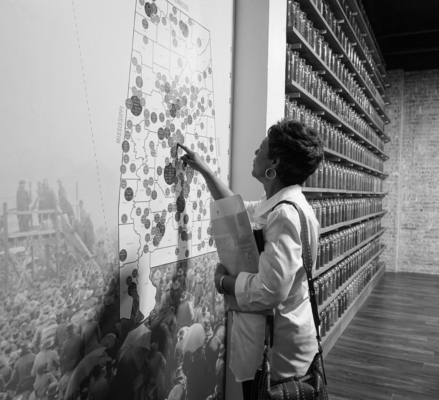 Dr. Carolyn McKinstry, board chair for Project Pilgrimage, examining a map of Alabama at The Equal Justice Initiative that shows lynchings by county of African Americans during the period between the Civil War and World War II. Facing the truth of our often violent history can be hard work, but it's an important part of progressing towards reconciliation and forgiveness. ⠀
---
QUESTIONS?
Feel free to reach out to us with any questions or comments.
Join our mailing list to receive updates about Sankofa Impact.