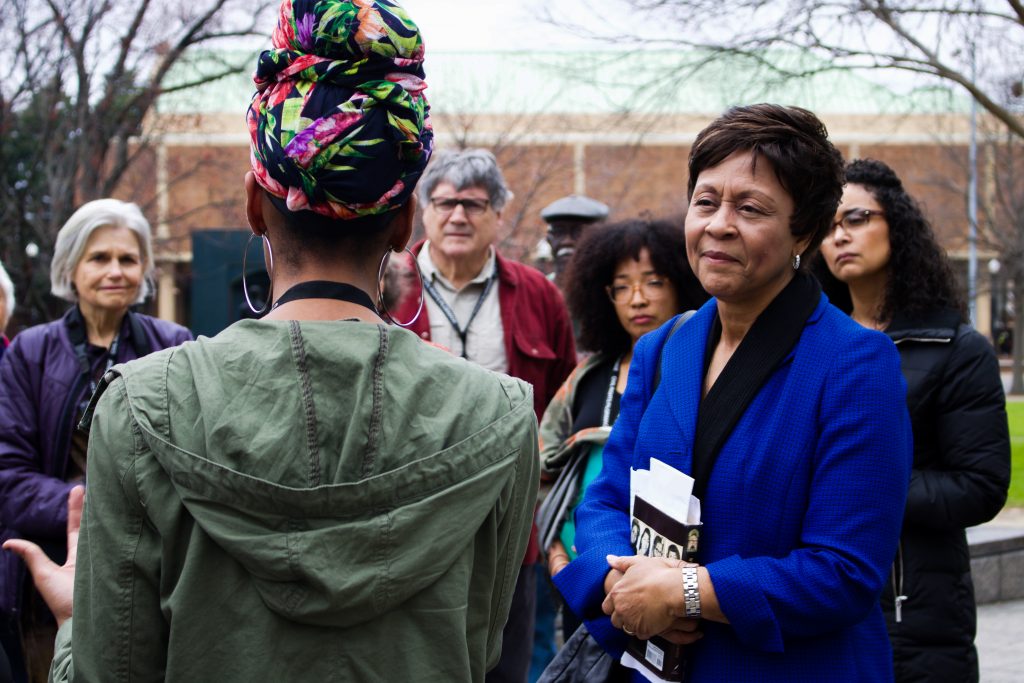 By Eleanor Chang-Stucki
For the Rev. Dr. Carolyn McKinstry, the head-spinning events of 2020 felt purposeful– as if a divine power was trying to direct our attention to the state of the world. As a young girl, Dr. McKinstry was witness to The Sixteenth Street Baptist Church Bombing and among protesters in the Birmingham Children's March of 1963.
She has spent a lifetime dedicated to community service. As a Project Pilgrimage board member, author, speaker, and witness to both the Civil rights movement of the '60s and today's Black Lives Matter marches, Rev. Dr. McKinstry has watched racism and protesting evolve.
The tragic and senseless murders of George Floyd, Breonna Taylor, Ahmaud Arbery, and countless others have shocked many into reckoning with the reality of police brutality and systemic racism in the United States. Last summer, 26 million Americans poured into the streets and months of peaceful demonstrations across the world ensued.
Q: Many people have compared the 2020 Black Lives Matter protests to the Civil Rights Movement of the 1960s. The Black Lives Matter Movement marches of 2020 are being dubbed the "second civil rights movement." Would you agree with this renaming?
A: I wouldn't call the 2020 protests the "second civil rights movement" because there were so many movements before the Black Lives Matter movement started. I think an appropriate name for this movement is "the attempt at the 3rd reconstruction". When slavery was abolished that was seen as the first reconstruction. When segregation was abolished during my time, that was the second reconstruction. Right now, you are privileged enough to live in what is considered the third attempt at reconstruction. I say attempt because there has never been a successful reconstruction of our country.
We look back over everything, and we don't see where there was ever a serious attempt to desegregate. Anywhere you travel around the country, I've been to so many places where it doesn't look like integration came to that city or state at all. I remember the old vestiges of slavery, I remember all my schools, parks, and churches being segregated. If you remember this, it never leaves you.
The Black Lives Matter movement is the first pointedly direct movement aimed specifically at the preservation of Black lives. I see Black Lives Matter as a brand new movement with a new focus, and that focus is the lives of Black people. There have been many attempts at equality, but there's nothing that suggested that Black lives counted or mattered to any decisions or to the rest of our population. So, I'm saying it out loud to anyone that will listen, that Black lives do matter.
Q: How has the role of Black women changed over time in the movement?
A: The role of women hasn't changed, except in numbers. Black women have always been on the battlefield in some way or another. Like Dorothy Height, who was reported to have written much of Dr. King's speech on the March of Washington of 1963.
You have Black women represented from all different generations, Harriet Tubman, Sojourner Truth, Dorothy Cotton, Fannie Lou Hammer. And more contemporary figures like Jane Fonda and Angela Davis. When we marched in the '60s white women quietly loaned their cars to us, made sandwiches, and donated money to the cause. There were always women there, even if we couldn't see them.
Q: What advice would you give to all women looking to join the movement?
A: I never expected to see the assembly of women represented at protests today. We were told to stay in our places, we had things that we were relegated to and so did other age groups. But today when you watch marches you see all ages participating, young, middle-aged, and older women.
Women are especially important right now. It will always take young women that can reach avenues that men cannot. I am supremely proud of all the young women I see marching and contributing to a better world, in such a crucial time. To young women all around, I know you'll join the ranks, I'll be looking for all of you.
Q: What is the role of young people right now? How do we move forward?
A: I have come to understand that every generation has something they are responsible for. My generation brought integration into the country. That was our primary contribution. Every new generation of young people recognizes that [racism] has been going on for a long time, too long.
Your generation's charge is to look back over history. Hold on to everything that has been gained, and find out what we need. What is missing from our world? What needs to be improved? Do we need to assemble or develop our schools differently or how can we change our curriculums for the better? Discussions and books are essential to undoing what has been done.
There's a place for everyone, you have to access your passions, your gifts, your skills, the thing that makes you jump up in the morning and wanna get moving. This is how we move closer to living in peace, loving our neighbors, and finding the Beloved Community.
This is a wonderful time to be alive, there's so much we need, and we require every single person.
Rev. Dr. Carolyn's 2020/2021 Reading List:
While the World Watched: A Birmingham Bombing Survivor Comes of Age During the Civil Rights Movement by Carolyn Maull McKinstry
The Third Reconstruction: How a Moral Movement Is Overcoming the Politics of Division and Fear by Jonathan Wilson-Hartgrove and William J. Barber
The Purpose of Power: How We Come Together When We Fall Apart by Alicia Garza
The Destruction of Black Civilization by Chancellor Williams
His Truth Is Marching On: John Lewis and the Power of Hope by Jon Meacham
Make Me Rain: Poems & Prose by Nikki Giovanni