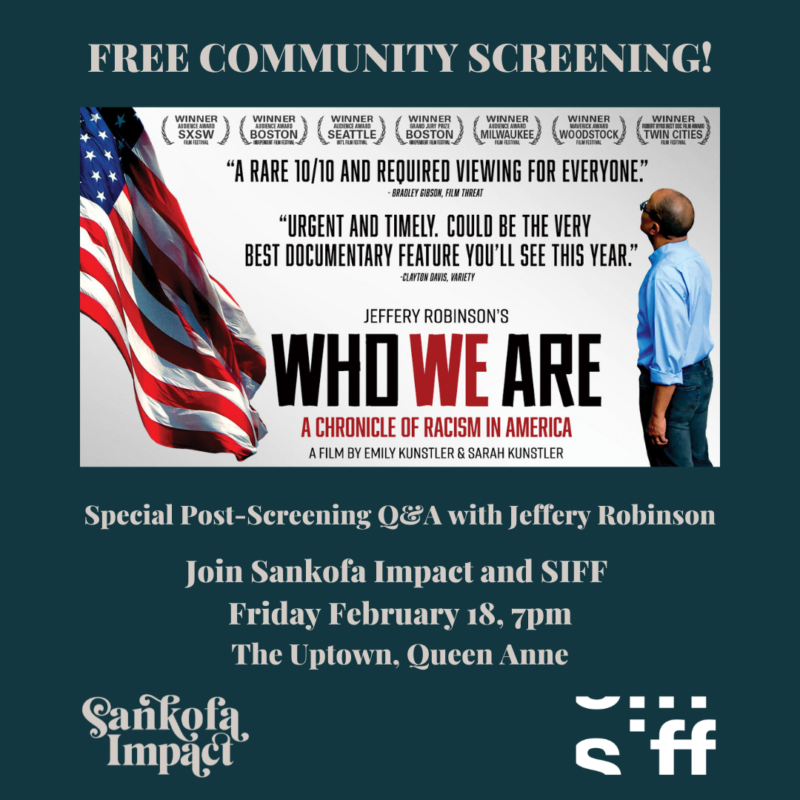 Picture this. A defining racist act brutalizes a Black American. In the aftermath of the racist act, we hear politicians and luminaries claim, "That's not who we are." Aspirations aside, many of us understand that racism is exactly who we are.
ACLU Deputy Legal Director, Jeffery Robinson (who has spent much of his career in Seattle) challenges all of us to examine who we are, where we come from, and who we want to be in the new film, Who We Are: A Chronicle of Racism in America.
Join Sankofa Impact and SIFF at the Uptown in Queen Anne this Friday, February 18 at 7pm for a community screening of Who We Are and stay for a special treat as Jeffery Robinson himself will be giving a post-screening Q&A! You can email [email protected] for info on free tickets for the film.
From a hanging tree in Charleston, South Carolina, to a walking tour of the origins of slavery in colonial New York, to the site of a 1947 lynching in rural Alabama, the film brings history to life, exploring the enduring legacy of white supremacy and our collective responsibility to overcome it.
The approach in the film mirrors the kind of place-based learning that is the mission of Sankofa Impact. Weaving heartbreak, humor, passion, and rage, Robinson's words lay bare an all-but-forgotten past, as well as our shared responsibility to create a better country in our lifetimes.
This will be a powerful evening of film and discussion. We are so happy to partner with SIFF and The Who We Are Project for this amazing event. See you there!